To become a data-centric enterprise, operators need to be at the heart of the data-AI ecosystem, to do this, they need to partner with existing players in the market.
Steve Jarrett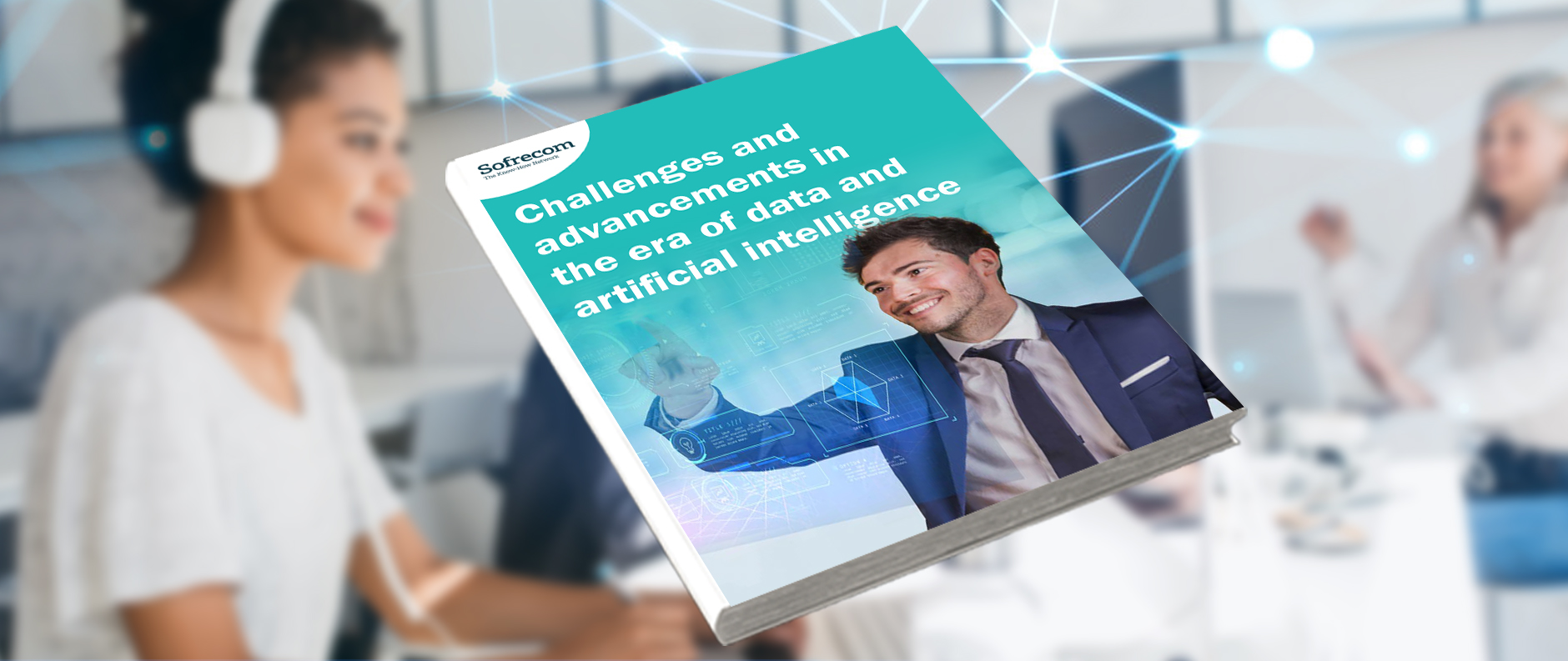 The exponential growth in the volume of data produced worldwide, combined with the growing ability to process it, notably through artificial intelligence, opens up vast opportunities for individuals, economies and society as a whole. The development of a data and AI ecosystem represents for telecom operators, as well as for all companies, a revolution as structuring as that of the Internet.
The revolution of data and artificial intelligence has already begun, it is already part of the telecom operators' strategy. However, it will take years for operators to make data and AI central to their business practices, and thus become both "data-driven" and "AI-driven". Indeed, the deployment of a data- and AI-driven strategy must irrigate all businesses. This deployment relies on team training and support programs. It requires the definition of a usage framework so that data and AI can serve the largest number of people.
The drivers of data and AI revolution
Data and AI revolution can be compared to the revolution of the Internet 25 years ago. It too will take many years to reach its full potential because it will involve a major cultural change in our societies.
Although data-AI offer, via their various business use cases, many opportunities for value creation, data management remains a complex task. They require good infrastructure and powerful tools that can deploy AI at scale. Moreover, the biggest challenge for a data-driven business is to find currently scarce skills and to develop a data culture across all businesses. The operator will therefore have to set up programs to develop skills and support change. The operator will have to consider how to break down the silos between the different departments of the company, as well as its needs in terms of technical tools and data sources. Data-AI must be seen as a "common good" accessible to all the company's business lines, at the service of value creation. While this challenge is real for telecom operators, it applies to any company.
Turning into a data- and AI-driven telecommunications company...
Turning into a data- and AI-driven company leads to greater agility, efficiency and profitability. We, at Orange, expect many benefits from data and AI:
Improve customer experience: Over the years, the operator has collected diverse data: quality of service data, connectivity data, billing data and usage data. Their analysis enables us to improve the experience and quality of service provided. In addition, thanks to predictive algorithms, we are able to have a deeper knowledge of our customers, their purchase habits and their behavior, and thus anticipate new needs and uses. Consequently, Orange offers more attractive and relevant services or products to its customers, thereby building customer loyalty. The first benefit is therefore essentially customer-centric.
Master network complexity: Our business transformation is very software-centric. The network itself is becoming virtualized: it is more advanced, with greater data sophistication. Artificial intelligence is a necessity to master the complexity of this new virtualized network. It is used to optimize the operator's core business.
Anticipate the potential emergence of new data-driven competitors and remain competitive with these new market entrants.
Giving employees tools for faster, fact-based decision making: The internal benefits are in how operators will make their employees more efficient in their daily work and how we can enable them to make better and faster decisions. Therefore, moving from simple decision-making to computers allows them to focus more on the more challenging part of their job, managing customer needs or managing the network itself.
Being at the heart of the data-AI ecosystem
In order to succeed in this transformation and become a data-centric enterprise, operators need to be at the heart of the data-AI ecosystem. To do this, they need to partner with existing players in the market. The opportunities for partnerships are numerous and the risk would be failing to partner quickly enough with all these companies focused on the public cloud and thus failing to manage this transformation effectively. Companies like Google, Amazon, Facebook, and Microsoft have huge compute and storage capacities that operators can use to increase the utilization of their systems. These companies also have great data and AI tools that allow us to focus on issues where our engineers can add value and leverage cutting-edge technologies, including open source technologies.
For example, at Orange, we have just signed our first agreement with Google Cloud, specifically to have access to these tools and infrastructures. We also support start-ups via the Orange Fab incubator and have taken part in the fight against Covid-19 pandemic by providing health authorities in several European and African countries with statistical data, thanks to our Flux Vision solution and our mobile network, enabling them to analyze population movements and anticipate the progress of the disease.
Acting as a socially responsible company
Data and AI bring new services and uses to humanity. But, like any new technical advancement, they raise new concerns. Telecommunications operators need to steer AI-related risks through cautious governance that can mitigate them.
Our teams are also considering ways to make the use of AI more responsible, notably by contributing to numerous working groups such as "Impact AI", which has elaborated an operational guide on how to deploy AI in a reliable and ethical manner. We also signed the Arborus Fund's international charter for inclusive AI, and obtained, after an audit by Bureau Veritas, the GEEIS-IA (Gender Equality European & International Standard) label. Most recently, we started a project called "Women in AI", which is a certification process to encourage and promote women in the AI industry. We have a lot of senior women engineers on our team who are real role models for our organizations. Finally, an ISO standardization is starting to define a reference standard for trustworthy AI especially to combat bias.
Data and AI at the heart of Orange's innovation and digital transformation
Innovation in data and AI will support Orange's strategic plan "Engage 2025". Indeed, one of its areas of focus places data and AI at the heart of our innovation model and digital transformation.
At Orange, our mission for data and AI is based on four priorities:
Smarter networks;
Better efficiency in our operations;
A reinvented customer experience;
Responsible and sustainable data and AI across our enterprise.
One of the Group's key initiatives has been the deployment of AI algorithms that improve our radio access network efficiency and thus avoid traffic overloads by accurately predicting network congestion. Smart management of network resources ensures our quality of service while optimizing the allocation and use of our resources, resulting in a significant reduction in energy consumption.
Other examples: the cross-collection of regulatory-compliant profiling data will improve customer knowledge management and enable more personalized offers.
Enhancing Orange's multi-service assistants' capabilities, text and voice bots dedicated to customer relations, notably through NLU (Natural Language Understanding) technologies, will improve customer experience and satisfaction.
In terms of operational efficiency, some initiatives have already been successful:
In Spain, to optimize the deployment of mobile network antennas thanks to Big Data and Machine Learning that analyzes commercial and technical KPIs.
In Senegal, with the optimization of the mobile subscription process thanks to the AI-powered image and text recognition tool that checks the conformity of ID card files and photos.
Our challenges during this first part of the transformation are to set rigorous priorities and to understand the impacts on these areas.
The partnership we have with Google Cloud will accelerate our transformation around data and AI.
Extract from our white paper : Challenges and advancements in the era of data and artificial intelligence