Any company adopting an agile transformation or implementing agile initiatives will reach a decisive moment where it will have to extend its transformation to the entire organization or, in other words, go to scale. In this article, we will focus on SAFe (Scaled Agile Framework), one of the frameworks that allows scaling and that has generated several reactions among agile practitioners in recent years.

Is it just a buzz word in the agile community? Or is it the Holy Grail to secure the success of your agile transformation?
In order to quickly demystify the hypothesis of the miracle solution, SAFe is not the guarantee of a 100% successful transformation. However, it does raise several points, several important questions via a model that harmonizes the use of different techniques and tools, aligned with the need and the degree of the desired transformation through the different configurations of the Big Picture.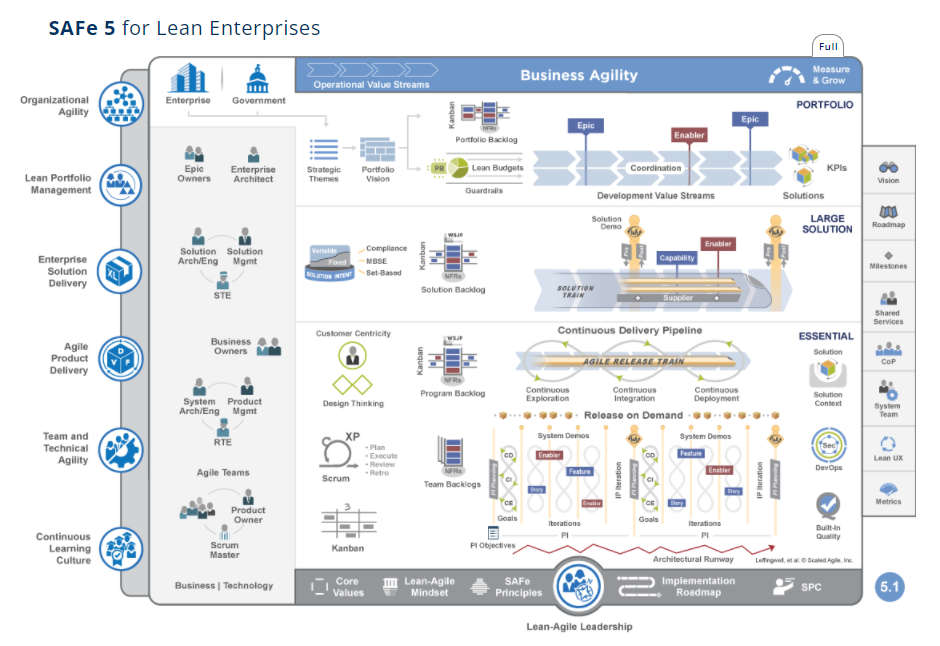 Configuration examples to maximize the success factors of an agile transformation
Essential
The Essential SAFe configuration provides a straightforward answer for organizations wishing to expand the application of agility to a program level in an Agile Release Train (ART) while enjoying simplicity in team support.
The Essential SAFe configuration provides the relevant roles, artifacts, events, and mindset for ARTs to deliver one or more desirable, achievable, viable, and sustainable solutions, or parts of a solution. The sustainable, flow-based, self-organizing nature of ART is what fuels SAFe and ultimately enables business agility.
Many trains are virtual, crossing organizational and geographic boundaries; others follow a hierarchical structure of activity line or product line management.
This configuration harmonizes the work of different Scrum or Kanban teams by introducing skills and new roles, artifacts, events in addition to those defined in the Scrum framework:
Three skills: Team and Technical Agility, Agile Product Delivery & Lead-Agile Leadership.
The 10 SAFe Principles and the 4 essential values.
Essential roles: RTE (Release Train Engineer), Product management, System Architect/Engineering & Business Owners.
Essential artifacts: Enabler Feature, Program PI Objectives, Architectural Runway,
Essential events: PI Planning, System Demo, Inspect & Adapt, ART Sync, SoS.
Portfolio
The SAFe Portfolio configuration aligns strategy with execution and organizes solution development around the development value stream through one or more operational value streams.
With an incremental logic, the SAFe Portfolio configuration, including Essential SAFe, is the smallest configuration that can be used to enable any organization to achieve Business Agility using the following elements in addition to the elements listed in Essential SAFe:
a) Three new competencies: Lean Portfolio Management, Continuous Learning Culture & Organizational Agility.
b) Portfolio roles: Epic Owners, Enterprise Architect, LPM.
c) Portfolio artifacts: Strategic themes, Portfolio vision, Guardrails, Portfolio Canvas.
d) Portfolio events: Portfolio Sync, Participatory Budgeting, Strategic portfolio Review.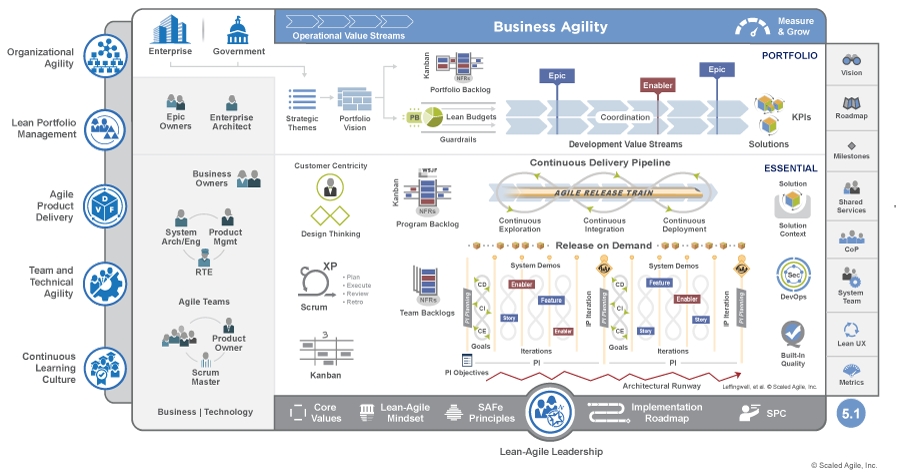 In addition to the configurations, Scaled Agile provides a transformation roadmap indicating the actions and trainings required for each step to ease your transition to Business Agility.
How about developing the implementation roadmap?