5G will generate, through new services anduse cases, many disruptive transformations aimed at modernization and operational efficiency.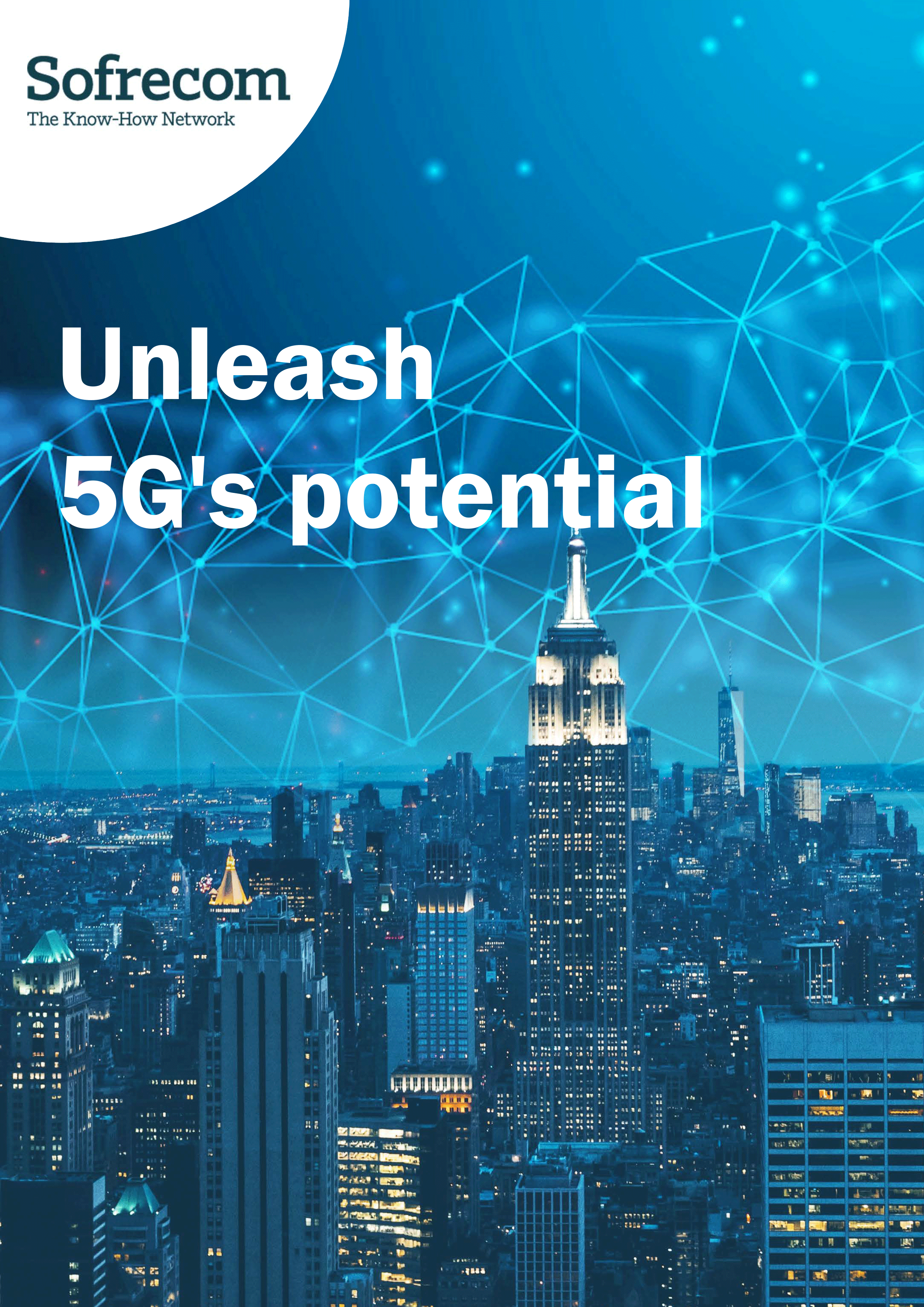 While 5G NSA has been deployed on a large scale in Europe and the Middle East, and 5G SA is on its way, operators are still struggling to find a monetization model for this new technology in all their markets: BtoC, BtoB, wholesale. The first use cases of private 5G in industry 4.0 or in smart cities show the way. The operator must rise in the value chain…
From a techno-push approach to a usage-driven approach
Until the 4th mobile generation, everything was simpler for operators. 3G was driving the growth of mobile Internet usage, while 4G was driving the explosion of data usage, especially video and videoconferencing. At each switchover, operators increased the price of their mobile package to value the additional speed brought by the new technology. Customers were buying.
With 5G, everything is different. The massive speed increase it offers does not meet the needs of consumers in the BtoC market, who are still satisfied with their 4G experience. In the BtoB market, the promises are attractive, including slicing, massive IoT, smart city... But 5G standalone network cores are not yet deployed in all territories, especially in France. They often come up against a technological limit: certain functionalities are not yet available, and existing terminals are not 5G compatible. In this emerging ecosystem, operators are still having difficulty assessing the value that 5G can generate for their customers. They are still looking for a business model that will allow them to justify and make profitable heavy investments in a 5G SA network. So how do we get out of this vicious circle?
5G use cases privately deployed by Industry 4.0
The first applications of 5G deployed in private mode are a source of inspiration. In France,
Germany and Japan, major industrial companies in various sectors have started deploying 5G. To move towards Industry 4.0, they have replaced the proprietary networks (TEC, TETRA, Wifi) they had deployed on their sites, large complex estates or smaller but highly automated factories, with 5G in private or hybrid mode. They started with a use case that met a strong performance challenge and justified the investment.
Then they leveraged their new 5G platform to deploy other uses:
For instance, a specialist in energy management and automation, has invested in 5G to optimize maintenance using augmented reality: its maintenance technicians can now view data related to superimposed virtual objects (a machine, a production line, the entire factory) on an application and intervene in real-time, thus reducing machine downtime and human errors. Then, the company relied on a mobile telepresence robot connected to 5G to develop remote site visits with very high video and audio quality.
German or Japanese car manufacturers who use a lot of automatic robots have switched to PMR5G (Private Mobile Network) because the Wifi network on which their AGVs (automatic guided vehicles) were connected was reaching its performance limit. Then, they deployed other uses: communication on terminals between operators and screwdrivers or other machines connected with data.
Requirements focused on turnkey usage solutions
Furthermore, the way in which the expectations of players formulating 5G deployment projects are expressed is another guide to the path to follow. Their requests are not about technological expectations, but about providing turnkey solutions oriented on very operational use cases.
Here are two examples:
In the Middle East, a country sees 5G as a powerful driver for the development of smart cities. In order to a guarantee 5G coverage of its cities, this country wants to put the new technology at the service of a very pragmatic challenge: to make the operational management of life transparent and easy. To this end, 5G must meet several specific and measurable expectations: improve the quality of public accounts management to make from the country a reliable and attractive financial center for investors; better organize the vital resources (water, energy) and that of mobility and road safety, in a context of resource scarcity and rapid expansion of cities related to the demographic boom; support the promotion of the country's modernity.
In France, a large city is considering the switch to 5G as a way to rationalize and unify a multitude of very heterogeneous proprietary networks (TRETRA, Wifi, wireline...) attached to as many contracts independent of each other, based on a detailed analysis of 80 specific use cases: security, safety, computer vision, video protection, development of autonomous vehicles, massive IoT...
Strong sectoral industry expectations
The same operational expectations are expressed in many sectors of activity and in business verticals where various experiments are underway.
In the transportation sector, the use cases aim to:
Increase network security. While TETRA networks for communication between security or intervention agents only use voice, a 5G PMR network opens access to video or data-based functionalities that significantly improve the operational efficiency of agents. As for slicing, it will enable networks to be prioritized according to security criteria.
Accompanying and helping travelers who are faced with the gradual disappearance of station agents but are waiting for a human presence. Carriers are testing the development of 5G services around the virtual counter: via video chat in mixed reality, a human interface helps travelers change their tickets or guides them through transit areas.
Accelerate the development of autonomous transports, which is a step towards decarbonization and cost optimization in all the sectors: road, railway, river and sea transport. The 5G low latency will herewith establish a new model for the sector. It will also leverage the transit points management (stations, airports, ports) and will enable to develop new services for the users and the customers.
In industry, the experiments are targeted at the production, maintenance, and logistics sectors. The use cases concern the mobility of people in a work situation, mobile maintenance, optimizing maintenance safety in the practice of gestures, optimizing intervention processes, securing sensitive industrial data, and developing distance learning around virtual reality.
Moving from an operator approach to an integrator one with end-to-end solutions
The previous analysis shows that in order to switch to 5G, an economic player does not expect us to tell him about technological performance, he wants us to tell him about himself and address his business operational needs. In the same way, a government or a city player does not expect to be told about "smart" if the needs of the "city" and citizens have not been taken into consideration beforehand. So, to monetize 5G on the BtoB market, the operator will have to go beyond its usual role: penetrate its customers' businesses, have a detailed understanding of their value chains to imagine with them a specific solution and identify the value that it will generate for the customer's business and for itself. However, building a business model based on specific offers is not in the DNA of a telecom operator. Moving up the value chain to get closer to the customer is a real paradigm shift. But it is towards this role of integrator of operational services and developer of digital territories that the Telco must evolve.
If it wants to bring a customer's global digitalization roadmap to the 5G market, the operator will have to start with a turnkey use case that makes real operational sense for the customer because it increases its operational efficiency and reduces its costs. To determine these use cases that generate value for the customer and business for the operator, the operator can benchmark the practices of mature 5G SA markets in Europe and the United States, where operators have identified 5 or 10 offers in each business sector. Then, progressively, the operator will be able to co-develop other use cases with the customer. It is through this new operational intimacy that the operator will succeed in driving the digital transformation of its customer.
The Orange 5G Lab, a tool for 5G operationalization
To help economic players bring their 5G projects to life, Orange has already deployed 16 5G Labs in 9 cities in France, Europe (Antwerp, Liege, Warsaw, Bucharest), Africa (Dakar, Abidjan) and the Middle East (Amann). In these structures, companies benefit from the support of Orange's technical, network and product experts to co-construct and rapidly test, on the scale of a lab, a 5G solution that they have imagined for their business. They can rely on the 5G equipment of tomorrow (augmented reality glasses, virtual reality headsets, engines, 5G terminals, 5G modules). These structures allow companies to test and learn on use cases, up to the economic evaluation of the solution and the validation of its relevance to the promise.
Consider the limits of a massive 5G deployment
Despite its promises and disruptive virtues, 5G architecture will never be the universal solution capable of replacing all existing networks to deliver all expected services.
Its massive deployment will encounter several limitations to be taken into consideration:
5G will require more energy in a context of scarcity, accentuated by the war in Ukraine, and frugality objectives to meet decarbonization commitments by 2030. This is an obstacle to 5G in emerging countries that are still not very electrified and not sovereign in terms of electricity production. It is a new constraint in developed countries where we will have to learn to count better.
The supply difficulties of some materials, generated by the health crisis related to Covid-19, will persist. The unavailability of antennas, sensors, processors, rare lands, and even production disruptions in the supply chain, will undoubtedly lead to delays in the implementation of 5G SA.
While 5G SA will create value through its ability to fine-tune the orchestration of expenses and processes, it will lead to ever more automation. This dynamic will reduce human intervention. Already, autonomous ships piloted remotely are sailing without a crew on board. It will be necessary to determine the threshold of social acceptability of a disruptive transformation that raises the question of the transformation of work, professions, and skills.
Despite these limitations, 5G is going in the direction of history: it is here to stay. It represents a first step towards increasingly organized economic and public action logic. It will generate, through new services anduse cases, many disruptive transformations aimed at modernization and operational efficiency. It will lead to a repositioning of all the players in the ecosystem. It is also the first step in opening up the world of data on a massive scale. It offers companies the opportunity to start embarking on the transformation of their operational model, their business model, and the development of data.
Jérôme BASSELER
Chief Commerial Officer, Orange Consulting
Eric LUCAS
Chief Commerial Officer, Orange Consulting
David KERNANEC
Manager senior, sales Division, Orange Consulting