Legislation has helped to raise awareness about CSR by firms.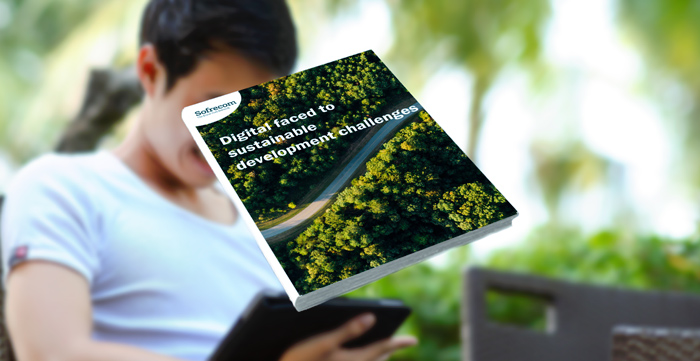 Born out of a voluntary approach, CSR is now more structured and has become a legislative and regulatory tool. Now adopted by more than 80 countries worldwide, it is becoming more mature. Even though CSR drivers are often multinationals, local companies are starting to jump aboard…
The concept of Corporate Social Responsibility (CSR) emerged in the 1960s. Initially, CSR was based on a voluntary approach, before gradually becoming more structured with the definition of frameworks, standards (ISO 26000, ISO 14001, ISO 50001, etc.) and public policies. More recently, to step up the momentum of CSR, many countries have decided to use national or international regulations to supplement the incentive arsenal with a mandatory framework. Not surprisingly, government regulators play the most important role in implementing mandatory rules, followed by financial and stock market regulators.
Overview of CSR laws and regulations worldwide
According to the Global Reporting Initiative (GRI) published in June 2020, more than 80 countries worldwide have introduced nearly 600 sustainable reporting instruments. The majority are mandatory.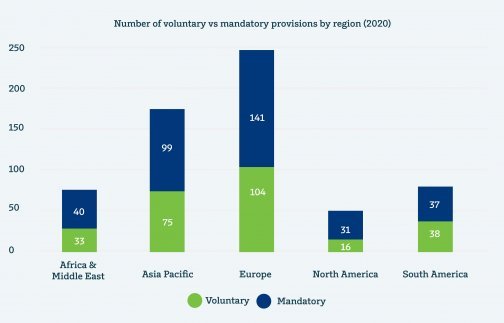 (Source: Carrots & Sticks 2020, Global Reporting Initiative (GRI) and Business School of Stellenbosch University (USB)
The most common form of legislation is the declaration of extra-financial performance. It requires companies to publish detailed information on their CSR actions and performance. Depending on the country, it appears under "declaration of extra-financial performance", "sustainable development report" or "triple bottom line".
Europe has been particularly active on this subject. 27 new laws and regulations have been introduced by EU member countries since 2016. These countries have transposed the directive on the declaration of extra-financial performance into their national legislation. Furthermore, in April 2021, Europe adopted a series of measures concerning the delegated acts relating to the EU Taxonomy. Through this series of regulations, public interest companies with more than 500 employees must publish the share of their revenue from products or services associated with sustainable economic activities, and the share of their investment (CapEx) and operating (OpEx) expenses linked to assets or processes associated with sustainable economic activities.
Other initiatives have also emerged such as the ESG (Environmental, Social/Societal and Governance) due diligence approach. It requires companies to identify the social and environmental risks associated with their activities, and to implement a prevention plan to avoid any damage resulting from these risks. Since 2018, French companies with more than 5,000 employees based in France or more than 10,000 employees worldwide must comply with this requirement.
Some countries also use the philanthropic approach as a legislative tool. India or Mauritius, for example, require companies to devote part of their net profits to CSR or to allocate them to a fund. However, this approach is sometimes challenged as, for some, this vision of CSR is too restrictive and more akin to public relations than to CSR.
Lastly, the approach via the governance structure and the general obligation under company law are the fourth and fifth legislative tools used by countries. China in particular has used the general obligation under company law to legislate on CSR and subject companies to these obligations.
Maturity that varies by geographical region
Accurately assessing CSR remains difficult, as the approach to this concept is still recent in a number of countries. Today, we observe that the CSR drivers are often multinationals and their subsidiaries because they have more resources and also use CSR for communication purposes. However, local companies are also starting to engage in CSR initiatives, often on a voluntary basis. We also see regional differences in terms of maturity and culture. For example, North America, which is more responsive to individual initiatives, seldom uses the regulatory and legislative framework, whereas Europe relies much more on the regulatory framework. In Africa, the philanthropic approach is dominant for the time being. The concept of CSR is still relatively recent and needs to be adapted to the local context.
Does legislation really encourage companies and operators to convert to CSR?
Answering this question is by no means easy because the direct impacts of the legislation are difficult to measure.
Companies sometimes accuse regulations of being overly harsh, used for political purposes and not giving them sufficient time to gradually increase their skills on the subject of CSR. Moreover, for some observers, legislation has often increased the amount of information produced on CSR, without necessarily improving its quality.
Lastly, an international alignment effort also remains to be made. The approaches used are still very national and do not provide a coherent overall vision.
At any event, it is clear that legislation has helped to raise awareness about CSR. In so doing, it signals the need for companies and operators to effect a change in behavior, and potentially paves the way for establishing new standards and business relationships.