Sofrecom has partnered with the Smart Tunisia project, an ambitious government investment initiative that aims to facilitate the employment of young graduates and to develop IT and ITES (IT enabled services) offshoring activities. The goal is to make Tunisia a highly reputed "digital hub" and in particular to attract foreign investors.

Smart Tunisia: an innovative and ambitious program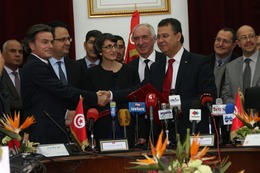 The partnership agreement on Smart Tunisia was signed on Friday, 3rd April 2015, by the Minister of Communication Technologies and the Digital Economy, Noomane Fehri, and Jacques Moulin, Sofrecom Group CEO, in attendance of Zied Laadhari, Minister of Vocational Training and Employment, Mustapha Mezghani, advisor to the Minister of Communication Technologies and the Digital Economy and in charge of the Smart Tunisia project, Mohamed Ben Amor, advisor to the Minister of Communication Technologies and the Digital Economy, Marc Rennard, Orange Group Executive Director for AMEA operations, Siwar Farhat, Director of Sofrecom Tunisia, Didier Charvet, General Manager of Orange Tunisia, and numerous media including TV, radio, the press and the Web which have widely publicized this major event and highlighted its importance.
Sofrecom is solidary of Tunisia and offers all of its support and friendship with Tunisia which, like France, has recently suffered difficult events. By this signature, Sofrecom illustrates its willingness to reinforce its activities in Tunisia, to contribute and develop employment in Communication Technologies field.
Sofrecom is the first foreign and French company to sign this partnership agreement. In doing so it reaffirms, in the continuity of Orange's engagements, its ambition and know-how to participate in the large scale digitization of the country and notably in the fields of e-government, e-education, e-health and make a valuable contribution to the success of the "Tunisie Digitale 2018" national strategic plan.
During the press conference, Jacques Moulin emphasized Sofrecom's group strong attachment to the Orange values and congratulated Siwar Farhat's actions that have led to this partnership, demonstrating Sofrecom expertise to accompany the development of digital projects backed by the Tunisian government.
Siwar Farhat, a Tunisian native and engineer, is a symbol of the "Know-How Network au féminin" policy supported by Sofrecom which decided to name a woman as the head of its Tunisian subsidiary.

Sofrecom Tunisia, a dynamic subsidiary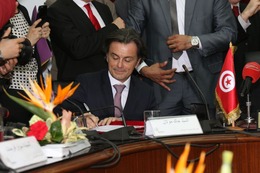 Sofrecom Tunisia, a subsidiary created in October 2012, offers highly specialized expertise in IT Networks. Starting with just ten people in 2011, its workforce will expand to 200 in 2015 and 400 people by 2018 (engineers, network architects, project managers) of the 1700 people working for Sofrecom group. Nearshore activity development is at the heart of Sofrecom's strategy for this area.
Sofrecom Tunisia activities are mostly focused towards services platforms and IT development for companies needing to rationalize their information system integration and maintenance expenses. Sofrecom Tunisia intends to make this subsidiary a competitive service center and the leading provider for North African telcos. To meet the needs of local and international markets, Sofrecom Tunisia has already formed partnerships with local players and even international ones, in the framework of the Franco-Tunisian digital alliance.