Sofrecom is also a partner of several associations that act in favor of the orientation of young people and the professional integration of people who encounter increased difficulties in accessing employment, such as young people from disadvantaged backgrounds or people with disabilities.
Claire Khoury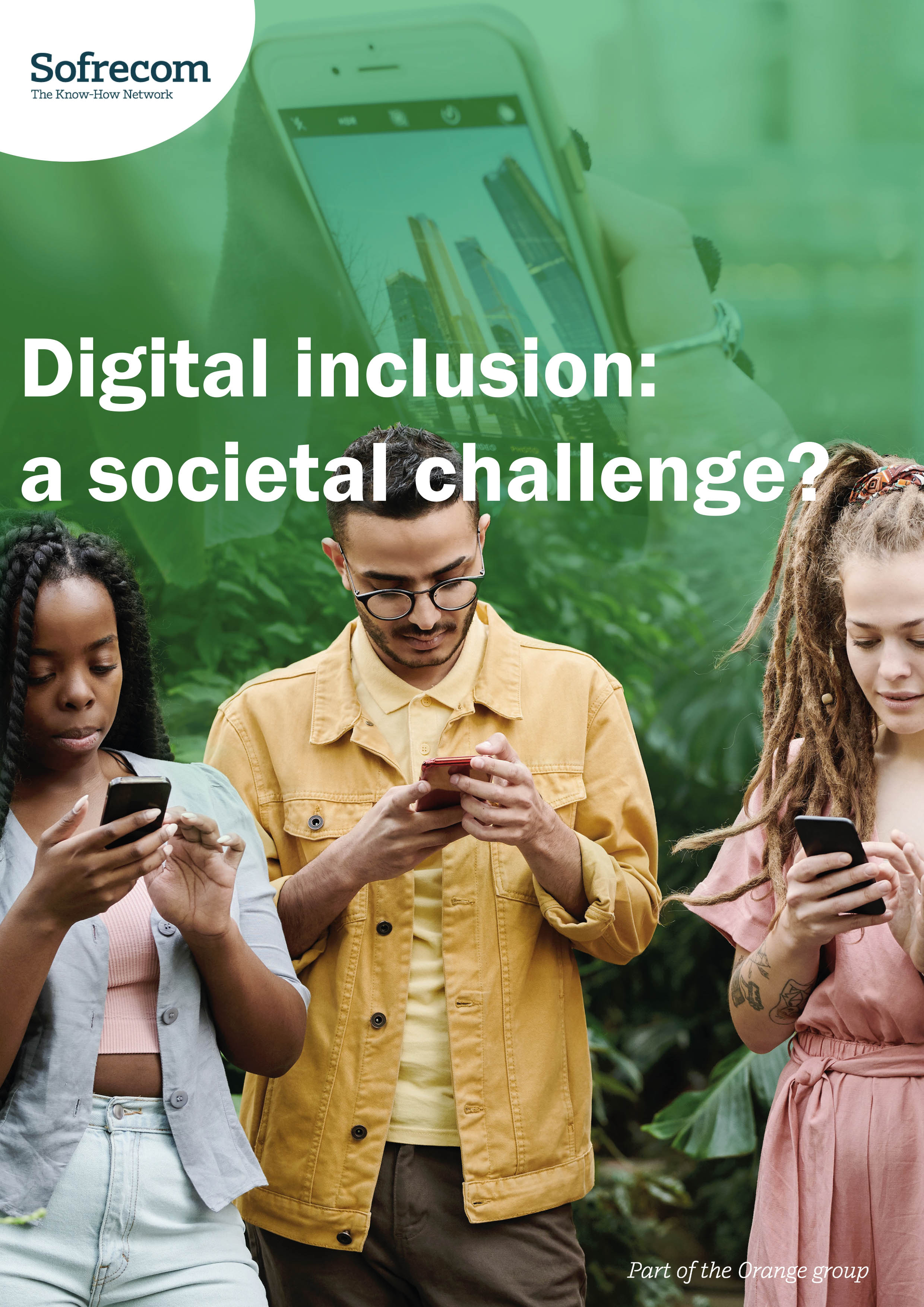 The development of local digital skills, in both infrastructures and digital developments, is an essential prerequisite for making digital a factor for inclusion in every country on the planet. Drawing on the cutting-edge skills of its experts and consultants and 50 years of experience in more than 100 countries, Sofrecom serves employment and training in digital professions wherever it operates.
Like Orange Group, of which it is a part, Sofrecom puts its concern for people to work for its development and that of its customers. It has structured its mission around three powerful commitments that contribute to overcoming the challenges of digital inclusion:
Contributing to local employment by recruiting diverse talents
To support the digital transformation and the development of its customers all over the world, Sofrecom draws on 11 local sites employing 2,000 experts and consultants. Together, they represent over 30 nationalities! In line with its CSR policy, Sofrecom encourages the recruitment and training of local talent and promotes women's access to technical sectors and positions of responsibility. In 2015, Sofrecom was the first Orange Group entity to be awarded the AFNOR Diversity label for its policy of promoting diversity, non-discrimination and professional equality. Sofrecom firmly believes that multiculturality is a lever for strengthening its integration into local ecosystems and developing partnerships there. It is also one of the ways in which it contributes to the social and economic development of the countries where it operates. In Tunisia, Sofrecom has recruited more than 700 young graduates since 2011. In Morocco, Sofrecom Services Maroc is already nearly 500 employees strong, with an average age of 32. 89% are telecoms and IT engineers, and out of these, 42% are women. Our Moroccan subsidiary is expected to create 200 additional jobs in 2023, mainly in engineering and development.
Implementing skills transfer
Sofrecom sees its work with its customers, operators and governments as part of a co-construction dynamic: we involve our customers in building their future and help their employees become agents of change. Whether on fiber optic deployment or network supervision projects, for technical or engineering jobs, our experts and consultants share their knowledge to contribute to building the skills of local players and helping them to become more autonomous in implementing and managing their infrastructures. They provide them with training by designing tailor-made learning pathways, as well as methods and tools.
Training in digital professions: the Sofrecom Academy
Because getting a first job is not always easy in Africa, and because people rarely have exactly the training needed for the positions opening up, Sofrecom has signed a series of partnership agreements with engineering schools and academia in Morocco and Tunisia. These partnerships enable students and young graduates to build their skills in high-growth sectors such as mobility, security, data management, the cloud and IT offshoring, all quickly developing in the region. They offer Sofrecom and its customers the opportunity to recruit highly-qualified IT developers, integrators, architects, DevOps experts, agile coaches, etc.
Perhaps the most emblematic initiative was the creation, in January 2019, of the Sofrecom Academy in Morocco. Based in Casablanca, this 8-week training program is designed to improve the employability and professional integration prospects for young Moroccan IT graduates through additional qualifying and certifying training,
Delivered by Sofrecom trainers, the course includes technical training in IT development as well as methodological and behavioral training, for instance in the Agile culture. Combining theory with hands-on learning, the training includes a common core of teaching and an immersion course in Sofrecom Morocco projects, followed by an assessment of the operational skills gained. It gives young people in every class access to working world.
Sofrecom is also a partner to several associations that promote guidance for young people and the professional integration of those facing ever-greater difficulties in finding employment, such as young people from disadvantaged backgrounds or people with disabilities.
In Burkina Faso, Sofrecom contributes to employment and training
Sofrecom provided support to the Burkina Faso Ministry for the Development of the Digital Economy and Post Offices for one year in deploying an international interconnection network with Ghana, i.e. 300 km of fiber optics. The challenges: to offer citizens and businesses an affordable, high-quality Internet connection and to make digital technology a source of leverage for socio-economic development. Through this effort, our consultants contributed to local employment and training for the Department's employees.
Our experts managed this project from start to finish. They developed the specifications and design for the network, then supervised and monitored its deployment by Huawei and carried out compliance checks to ensure compliance with international standards and lasting quality.
Our teams have also worked to ensure that the infrastructure's deployment contributes to local employment, in particular that of women, and the qualification of workers: more than 2,600 inhabitants of the conurbations crossed were trained and employed, including 800 workers, for a total of 39,000 days worked. In particular, women have been involved in refilling the trenches, a painstaking task that requires special attention to achieve the level of quality called for in the international standards.
Our consultants also provided 4 Ministry workers with training in inspection projects. After 4 days of theory and hands-on training, and 2 weeks of supported on-site work, they were able to fully step into their new responsibilities within this project. They now carry out their tasks self-sufficiently and can in turn pass on their digital skills by training colleagues.
Burkina Faso thus now has the first local-level resources qualified to carry out future projects.
Extract from our white paper, Digital inclusion, a societal challenge?