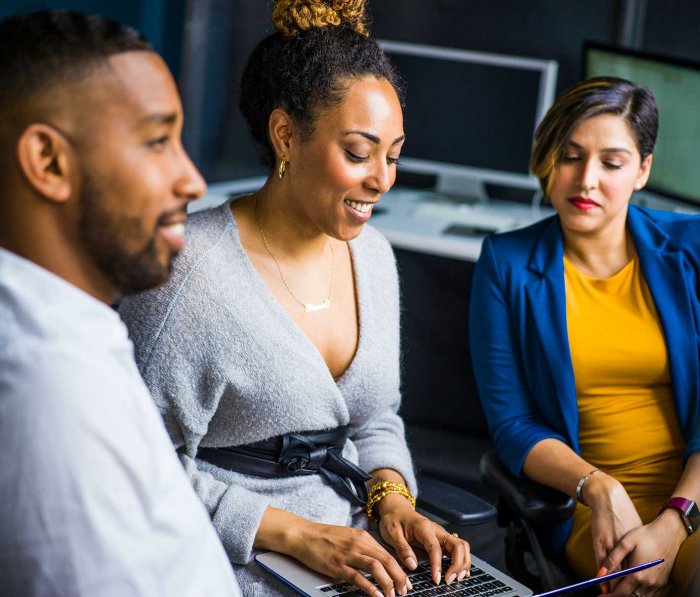 To help young people and innovators benefit from the digital revolution, Orange Group has made it a strategic ambition to open an Orange Digital Center in all its regions, including France. Asma Ennaifer played an instrumental part in the development and opening of the first Orange Digital Center, inaugurated in Tunis in April 2019. She explains how this concept showcases Orange's commitment to digital inclusion.
Orange Digital Center is a network of support structures for young people and specifically for entrepreneurs, which has begun to be deployed in Orange countries in Africa and the Middle East (MEA).
Each Orange Digital Center concentrates three programs in one place:
a Coding School, a free and open-access technology center;
a Solidarity FabLab by the Orange Foundation, a production workshop where users can bring their ideas to life and make prototypes using digital equipment;
an Orange Fab, a start-up accelerator.
In addition, Orange Digital Ventures Africa, Orange Group's €50 million investment fund, funds innovative start-ups in countries in the MEA region.
Orange Digital Center is dedicated to providing digital training, mentoring and support to young people, whether they hold degrees or not, as well as those with innovative ideas, encouraging their digital entrepreneurship ideas or preparing them for the jobs of the future (AI, Cyber-security, etc.). It is a support structure for employability and entrepreneurship in countries where youth unemployment is high. Consequently, the Coding School is aimed in particular at students, geeks, young developers and project owners. The Solidarity FabLab targets the same audiences, but is also intended for people without qualifications and without jobs. Orange Fab provides support to the most promising start-ups through their commercial development phase, while Orange Digital Ventures Africa helps them build commercial partnerships with Orange Group and the global network of Orange Fabs.
The Orange Digital Centers contribute to the vocational training of young people and women
Orange Digital Center provides young people, in particular girls and women, with hands-on operational training and high-quality support. By having them work on real-life, concrete projects, the structure positions itself at the interface between universities and the labor market. It responds to the needs of companies seeking immediate operational profiles, while academic training often remains all too theoretical. The Orange Digital Centers contribute to the digital inclusion of young people and women by preparing them to work in an environment close to the professional world. In so doing, they enable them to become full-fledged players in the world of tomorrow.
How does an Orange Digital Center work?
The added value offered by an Orange Digital Center lies mainly in the creation of synergies between the four spaces that structure it: after being trained in the latest digital trends at the Coding School, young people can make their prototype a reality and bring their technological project to fruition in the supportive environment of the Fab Lab, then choose to open their own start-up with the benefit of technological incubation, or move into the job market for which it will be operational. In addition, because they operate as networks, these places enable experience- and expertise-sharing, which benefit students, young people with or without degrees, workers in professional retraining, and entrepreneurs.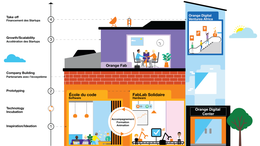 The 1st Orange Digital Center has opened in Tunis
The Orange Digital Center in Tunis brings together multiple players, in particular the government, local and international NGOs and the academic world, with 27 partner universities. The involvement of these stakeholders is essential in ensuring that the structure will best address inclusion challenges across the broadest possible population, and all expectations: those of governments, but also those of young people and the professional world. Their involvement also helps ensure that the impact of the programs deployed by the Orange Digital Center will be lasting and effective.
The concept was built up in Tunisia using the significant feedback from various initiatives launched in the country over the last 10 years. It was in Tunis that in 2010, Orange opened its first Orange Developer Center in Africa, in effect its first Coding School, free and open to all. At the same time, 5 solidarity FabLabs were opened with the support of the Orange Foundation, followed by an Orange Fab.
In total, over the last 10 years, Orange Tunisia has trained 18,000 young people in digital technology, at its Coding School and 27 universities. It has supported 38 start-ups, introduced 1,000 teenagers to coding and deployed 5 Orange Digital Center Clubs, affiliates to the Coding School, in universities.
The Orange Digital Center launched in Dakar in late-2019 was designed on the Tunisian model, and tailored to the local context
With a surface area of 2,000 m² over six floors, the Orange Digital Center in Dakar is the first in West Africa. Like its Tunisian neighbor, it includes the 3 support programs: the "Sonatel Academy" Coding School, a solidarity FabLab deployed in collaboration with a local NGO and the support of the Orange Foundation, as well as an Orange Fab start-up accelerator. It also draws on Orange Digital Ventures Africa. Based on the Tunisian model, it is nonetheless adjusted to the local context and above all to the expectations of its beneficiaries.
By 2025, Orange will open an Orange Digital Center in all its countries
Orange Group's CSR strategy and the Orange Foundation's policy are based primarily on a concerted vision of development aid. In 2025, there will be no economic performance without social exemplarity. It is for this reason that Orange has made a lasting commitment to digital equality, with concrete evidence, such as the deployment of an Orange Digital Center in each of its countries in Africa, the Middle East and Europe. It is a simple and inclusive approach to encourage innovation and entrepreneurship, and to support the local digital fabric of the countries involved.
For the MEA region, I coordinate, under Orange's CSR Department, and in close collaboration with the project managers from each subsidiary involved, the program management team based in Tunisia. The next openings are planned in Cameroon, Ethiopia and Jordan, over First Half 2020. In the other Orange countries in MEA, deployments will take place in 2020 and 2021. All the European countries and the operational divisions in France will be equipped by 2025.
It should also be emphasized that, last December, Orange signed a 3-year partnership agreement, with Deutsche Gesellschaft für Internationale Zusammenarbeit (GIZ), a German federal enterprise that implements projects for sustainable development worldwide on behalf of the German Federal Ministry of Economic Cooperation and Development (BMZ), to support the employability of young people through the deployment and strengthening of the Orange Digital Centers network. This strategic alliance and its €30 million support fund will contribute to developing digital skills in at least 20,000 young people and the creation of 8,000 jobs in 14 countries of the MEA region: Tunisia, Senegal, Morocco, Jordan, Cameroon, Ethiopia, Mali, Madagascar, Sierra Leone, Ivory Coast, Egypt, Burkina Faso, Guinea and Liberia.
Extract from our white paper: Digital inclusion, a digital challenge?